August 2015 Fishing Trips in Hawaii Report
Kona Fishing Report
The fishing the first week of August started off a little slower than the red hot pace we had been experiencing since April here in Kona.  Having said that, overall it has been a really great year here in Kona with very good numbers of fish being caught, lots of trips with multiple catches and four Granders weighed in Kona this year.
Some Highlights from Recent Kona Fishing Charters on the Humdinger
On Sunday August 9th we went 2 for 2 on Blue Marlin.  The first fish we tagged and released was about 150 pounds.  The second we fought and brought to the boat to tag, but could not revive it.  Back at the dock, the fished weighed in at an impressive 777 pounds.  On August 8th we went 2 for 3 on Blue Marlin (tagging both fish) and also caught a small spearfish we pulled the hooks on right at the boat.  Another boat fishing in the same area caught and tagged a Blue Marlin they estimated at 750 pounds.  Thursday August 6th we went 3 for 6 on Blue Marlin and missed a nice Yellowfin Tuna.  The biggest Blue Marlin we heard reported was a fish in the 400 pound class that was tagged and released.  Wednesday August 5th, we got skunked (it happens) and did not have a bite all day.  Tuesday August 4th we went 1 for 2 on Blue Marlin and missed a Spearfish bite.  Monday August 3rd we caught a Nice Mahi Mahi (Dorado) and missed a spearfish bite as well.  All in all the action has been consistent at worst with most all of our recent charters getting a bite from at least one blue marlin with our best day recently generating 6 bites in one day for Blue Marlin.
Highlights from the Hawaiian International Billfish Tournament
The 56th Annual Hawaiian International Billfish Tournament wrapped up this week in Kona with 31 teams fishing in this year's tournament.  A total of 87 Blue Marlin and 1 Striped Marlin were tagged and released during the five day event.   The tournament is designed to promote tag and release with a minimum weight of 300 pounds on Blue Marlin, and as a result, only 7 Blue Marlin and 8 Ahi were weighed in this year's tournament.  The largest fished weighed this year 573.4 pounds.  You can view all the results at http://www.hibtfishing.com or watch the short video below recapping all of the tournament highlights.
Kona Fishing Forecast
Expect the fishing in Kona to remain excellent through September and well into the fall months this year.  With the presence of the Super El Nino "Bruce Lee" this year, water temperatures in the Pacific should remain above normal well into the early winter months here in Kona.  The warmer ocean currents will concentrate baitfish and Blue Marlin along the Kona coast and likely extend the excellent fishing we have seen all year in Kona.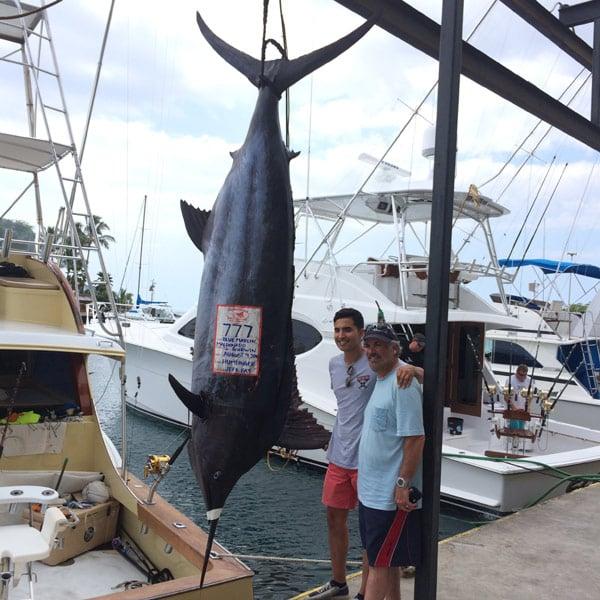 If you are planning a fishing trip to Kona later this year, be sure and check our availability on the calendar below and be sure to book your fishing charters early.  The popular winter dates around the Thanksgiving Holiday and Christmas breaks always fill up quickly and we are already taking reservations around these times.  Our best rates are always available by booking right on our website, so check the calendar below and book online for the best deals.
Read Our Recent Fishing Reports
Kona Fishing Report August 16, 2021 – The Yellowfin Tuna Bite Continues

One of our regular clients, Doug Schultz, joined us today for a 6-hour fishing charter in Kona. Doug wanted to catch some fish to eat so we went looking for the Tunas that have been reliably showing up here in Kona the past few weeks. The best season in Kona for catching Yellowfin Tuna, otherwise…

Kona Fishing Report August 11, 2021 – Nice Ono on an Afternoon Fishing Charter

Probably one of the best things about fishing in Kona is the fact you can catch any number of species on any given day within a few minutes of leaving the slip. Because of this, even on a 4-hour afternoon fishing charter, it is possible to catch a giant blue marlin or just something delicious to throw on the grill for dinner.

Kona Fishing Report August 7, 2021 – Morning Ahi Bite

Brian O'Snow and his family joined us today for a ¾-day fishing charter in Kona and went home with some fresh Ahi Tuna Filets. The Tuna fishing in Kona has been very good the past month with fish to 160+ pounds. While the best fishing has been on the afternoon tide change, with lots of…