Marlin Magazine Selects Kona Hawaii as a Top Destination World Wide to Catch a Grander
Kona Fishing Report
In an August 26, 2010 article by Charles Levine posted on MarlinMag.com, the author details the top sportfishing destination world wide with the highest probability of catching a "Grander" (a blue marlin over 1,000 lbs).  What makes Kona an ideal location is that it sits in the middle of the pacific ocean and the waters off of Kona remain protected by the huge volcanoes that created the Big Island of Hawaii.  Fishing in Kona Hawaii is close to the shore with most fish caught within five miles of land and the waters most every day are very calm and deep (500 to 1,000 fathoms within 5-10 miles of land), making it an ideal location for tourists and vacationers to try their luck at catching a big blue marlin.
Excerpt from article on MarlinMag.com follows.  Read the WHOLE STORY HERE.
"You can catch a grander Pacific blue on any day of the week in these waters, but the best big-fish months occur during the summer. Jim Rizzuto, who has chronicled the local fishing scene for the past few decades, counts 76 marlin topping 1,000 pounds since 1960 (and that does not take into account any granders released).
The Big Island is literally the top of a mountain that drops down to the seafloor. The depths fall away to 1,000 fathoms within sight of land, and you can catch marlin, tuna, wahoo and more within a stone's throw of the harbor. It's not uncommon to see an 18-foot Boston Whaler trolling with a 130-pound setup. The average blue runs between 300 and 500 pounds, but most of the fleet sticks with heavy tackle — and for good reason.
Capt. Jeff Fay, who runs Humdinger, a gorgeous 37 Rybovich, says he prefers baits for the big ones. Fay knows what he's talking about. He's won the Henry Chee captains award in the Hawaiian International Billfish Tournament four times — the most of any captain."
CLICK HERE to read the whole article on Marlin Magazine, the authority on Blue Marlin.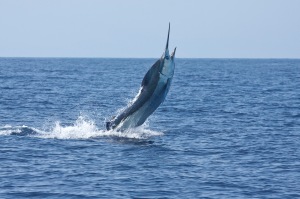 Read Our Recent Fishing Reports
Kona Fishing Report August 16, 2021 – The Yellowfin Tuna Bite Continues

One of our regular clients, Doug Schultz, joined us today for a 6-hour fishing charter in Kona. Doug wanted to catch some fish to eat so we went looking for the Tunas that have been reliably showing up here in Kona the past few weeks. The best season in Kona for catching Yellowfin Tuna, otherwise…

Kona Fishing Report August 11, 2021 – Nice Ono on an Afternoon Fishing Charter

Probably one of the best things about fishing in Kona is the fact you can catch any number of species on any given day within a few minutes of leaving the slip. Because of this, even on a 4-hour afternoon fishing charter, it is possible to catch a giant blue marlin or just something delicious to throw on the grill for dinner.

Kona Fishing Report August 7, 2021 – Morning Ahi Bite

Brian O'Snow and his family joined us today for a ¾-day fishing charter in Kona and went home with some fresh Ahi Tuna Filets. The Tuna fishing in Kona has been very good the past month with fish to 160+ pounds. While the best fishing has been on the afternoon tide change, with lots of…