Kona Fishing Report – May 2018
Kona Fishing Report
Summer has arrived and the fishing in Kona is red hot!! Over the past few weeks, good numbers of Blue Marlin, Shortbilled Spearfish and Ono have been caught. Since January 1st, 55 Blue Marlin over 500 pounds have been reported by the fleet. June through September is the peak season for fishing in Kona. During this period, expect to catch Blue Marlin, Ahi Tuna, Shortbilled Spearfish, Ono and the occasional MahiMahi.
Volcano Update
The media has sensationalized the recent eruptions of the volcano in the Puna area, which is over 100 miles away from Kona. While these events are certainly tragic for those impacted, and our hearts go out to all those affected by these recent events, the active lava eruptions you see in the media are happening on the exact opposite side of the island over 100 miles away from the hotels and resorts along the coast from Kona north up to Waikoloa and are impacting an area roughly 22 square miles in area. All airports in Hawaii are operating normally and there are no travel disruptions in the Kona or Waikoloa areas. These eruptions are, however, creating some really great deals on airfares and hotels, so search online for some bargain airfare and hotel rooms and head out to Kona to take advantage of the great fishing going on now.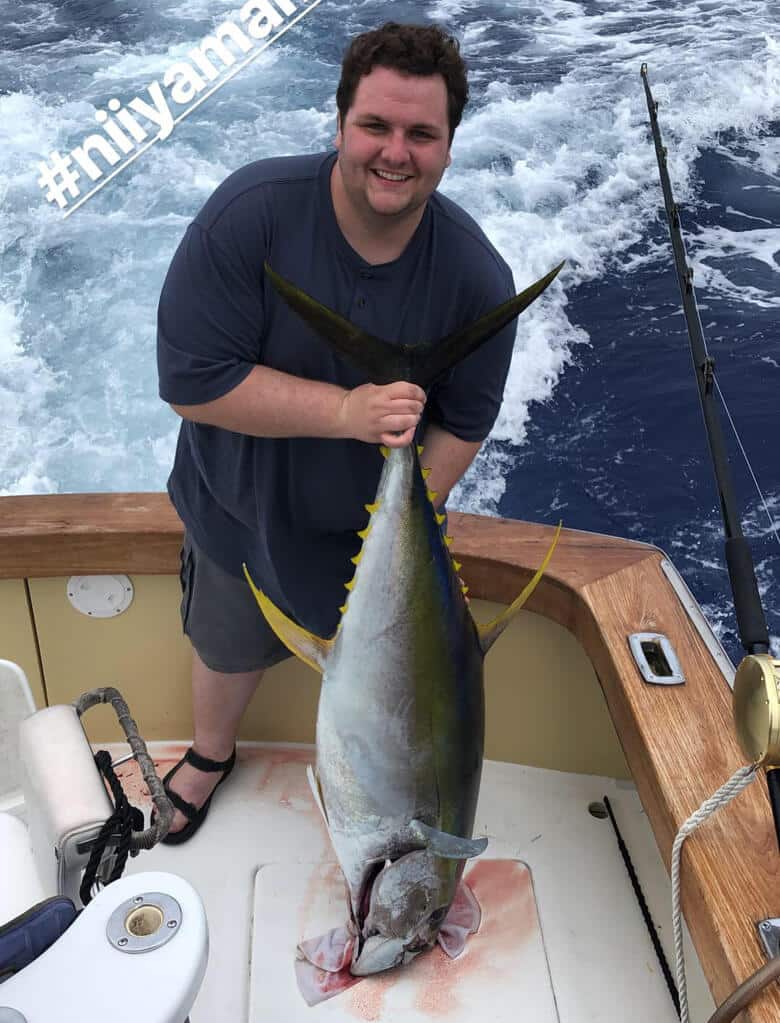 Book for your fishing charter early as these next few months will be some of our busiest times. Visit our website at https://www.HumdingerSportfishing.com to check our current availability and book online for our lowest available rates. We hope to see you in Kona this Summer.
Read Our Recent Fishing Reports
Kona Fishing Report August 16, 2021 – The Yellowfin Tuna Bite Continues

One of our regular clients, Doug Schultz, joined us today for a 6-hour fishing charter in Kona. Doug wanted to catch some fish to eat so we went looking for the Tunas that have been reliably showing up here in Kona the past few weeks. The best season in Kona for catching Yellowfin Tuna, otherwise…

Kona Fishing Report August 11, 2021 – Nice Ono on an Afternoon Fishing Charter

Probably one of the best things about fishing in Kona is the fact you can catch any number of species on any given day within a few minutes of leaving the slip. Because of this, even on a 4-hour afternoon fishing charter, it is possible to catch a giant blue marlin or just something delicious to throw on the grill for dinner.

Kona Fishing Report August 7, 2021 – Morning Ahi Bite

Brian O'Snow and his family joined us today for a ¾-day fishing charter in Kona and went home with some fresh Ahi Tuna Filets. The Tuna fishing in Kona has been very good the past month with fish to 160+ pounds. While the best fishing has been on the afternoon tide change, with lots of…