July 2015 Fishing Saltwater Report
Kona Fishing Report
The Big Island of Hawaii – The fishing in Kona has remained very good over the past.  This being an El Nino year, the water temperatures have remained warm, holding good numbers of Blue Marlin, Yellowfin Tuna and Shortbilled Spearfish just off the cost of the Big Island.  Expect these El Nino conditions to extend our normal fishing season well into the months of November and December this year due to the warmer overall water temperatures in the Pacific Ocean.
This past week we saw a good number of Blue Marlin being caught.  While the fish remained on the smaller side, good numbers of smaller Blue Marlin were tagged and released in the 125 pound range.  The consistent action has been great for our guests on ½ day and ¾ charters, giving them multiple shots at hooking up to a blue marlin on shorter fishing charters.  Below are some of the recent catches on our fishing charters over the past week:
Sunday July 19th – we went 1 for 2 tagging a small Blue Marlin about 150 pounds and we also caught a 168 pound Yellowfin Tuna, winning the Tuna Division in the Kona Classic Tournament.
Friday, July 17th – we went 0 for 2 on Blue Marlin and caught one nice Yellowfin Tuna that weighed 120 pounds.
Thursday July 16th, – we went 1 for 2 tagging a Blue Marlin and also tagged a nice Shortbilled Spearfish.
Sunday July 12th – we went 0 for 1 missing a good Blue Marlin bite but we managed to also catch a nice Ono (Wahoo) for our charter as well.
Over the last few days there have been some really nice Blue Marlin caught in the area.  Four Blue Marlin in the 500 pound range were caught by other boats this week.  A fish in the 600 Pound range won the Kona Classic Tournament this past weekend.  The fish that was caught, when three blue marlin surfaced in the spread and struck different lures, was not the biggest of the three fish, but the 600 pounder was enough to take top honors in the tournament.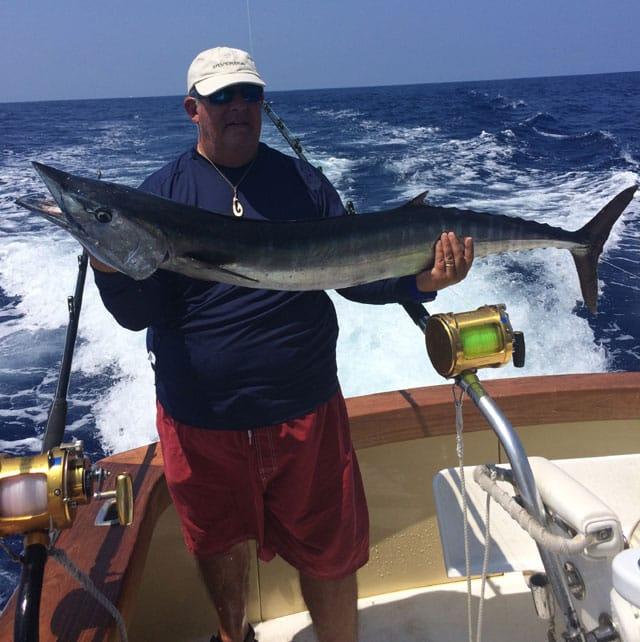 If you are planning to book a fishing charter in Kona in the coming weeks, be sure to check our availability on the booking calendar below and lock up your fishing charter before all of our dates our booked for the popular summer fishing season.  We have just a few full day, ½ day and ¾ day fishing charters still available sprinkled throughout the remaining part of July and the month of August.  You can always get our best rates on a Kona Fishing Charter by booking your trip right on our website.
We hope to see you soon and look forward to fishing with you on the Humdinger.  Aloha and tight lines!
Read Our Recent Fishing Reports
Kona Fishing Report August 16, 2021 – The Yellowfin Tuna Bite Continues

One of our regular clients, Doug Schultz, joined us today for a 6-hour fishing charter in Kona. Doug wanted to catch some fish to eat so we went looking for the Tunas that have been reliably showing up here in Kona the past few weeks. The best season in Kona for catching Yellowfin Tuna, otherwise…

Kona Fishing Report August 11, 2021 – Nice Ono on an Afternoon Fishing Charter

Probably one of the best things about fishing in Kona is the fact you can catch any number of species on any given day within a few minutes of leaving the slip. Because of this, even on a 4-hour afternoon fishing charter, it is possible to catch a giant blue marlin or just something delicious to throw on the grill for dinner.

Kona Fishing Report August 7, 2021 – Morning Ahi Bite

Brian O'Snow and his family joined us today for a ¾-day fishing charter in Kona and went home with some fresh Ahi Tuna Filets. The Tuna fishing in Kona has been very good the past month with fish to 160+ pounds. While the best fishing has been on the afternoon tide change, with lots of…