July 2015 Online Fishing Report
Kona Fishing Report
This past week, the fishing in Kona has been a bit spottier than the past few weeks due to changing currents and trade winds.  There are still very good numbers of Blue Marlin holding in the area along with equally good numbers of YellowFin Tuna (Ahi) typically found this time of year.  We have been mainly catching Blue marlin and Yellowfin Tuna the past few weeks, with the occasional Shortbilled Spearfish, Striped Marlin, Wahoo (Ono) and Mahi Mahi (Dorado).  Friday July 31st was a Full Moon, and July was Blue Moon, with two full moons occurring during the month of July.
Friday we went 0/1 on Blue Marlin, but there were several nice fish caught on other boats including two blue marlin over 500 pounds and one over 300 pounds.  On Thursday, July 30th we tagged a nice fish in the 300 pound class and missed another bite.  On Wednesday, another boat fishing in the same are with us went 2/4 on blue marlin and 2/2 on striped marlin.  Another small baot fishing for tuna had a double header on the line when an 800 pound Blue Marlin came up and ate one of the smaller tuna he was fighting.  He fought the big marlin for about 15 minutes before it broke off.
Even when the fishing is spotty you never know when a giant is come out of the depths and take the bait.  Kona is known as one of the best places in the world to catch a blue marlin over 1,000 pounds and it could happen any day of the year.  There is still a lot of bait holding in the area and where the bait is the Marlin and Tuna are going to be hanging around looking for an easy meal.
Kona Gives Up Fourth Grander in 2015
The building side of a Blue Moon must be a good omen for giant Blue Marlin, because just three days before the Blue Moon, on Tuesday July 28 and one day before his 57th Birthday, Guy Kitaoka, fishing nearby on a 21 foot skiff with Capt. Darrel Omori, caught a giant Blue Marlin that tipped the scales at 1,368 pounds and was about 14.5 feet in length.  The Grander, the fourth caught in Hawaii this year and the third caught this year in Kona, is largest Blue Marlin caught in Kona in the last 23 years.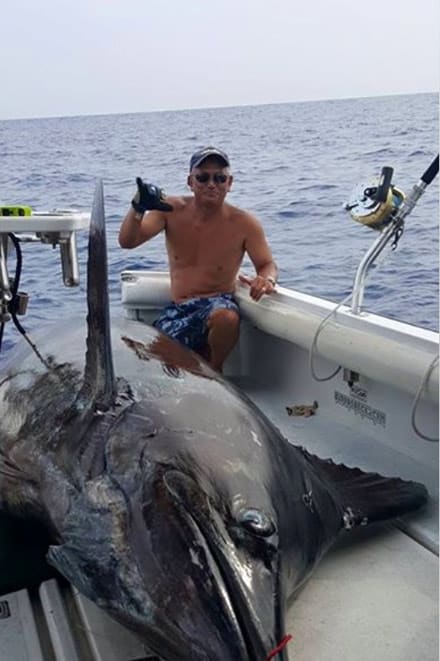 If you are interested in booking a Kona Fishing Charter, be sure and check our availability online and book as soon as your dates are firmed up.  We only have a few charters available through the end of August.  It's also not too early to start thinking about your winter fishing excursions.  We are already booking charters over the popular Christmas and New Year's Holiday dates.  Check the calendar below and book online for the lowest rates on a Kona Fishing Charter on the Humdinger.
Read Our Recent Fishing Reports
Kona Fishing Report August 16, 2021 – The Yellowfin Tuna Bite Continues

One of our regular clients, Doug Schultz, joined us today for a 6-hour fishing charter in Kona. Doug wanted to catch some fish to eat so we went looking for the Tunas that have been reliably showing up here in Kona the past few weeks. The best season in Kona for catching Yellowfin Tuna, otherwise…

Kona Fishing Report August 11, 2021 – Nice Ono on an Afternoon Fishing Charter

Probably one of the best things about fishing in Kona is the fact you can catch any number of species on any given day within a few minutes of leaving the slip. Because of this, even on a 4-hour afternoon fishing charter, it is possible to catch a giant blue marlin or just something delicious to throw on the grill for dinner.

Kona Fishing Report August 7, 2021 – Morning Ahi Bite

Brian O'Snow and his family joined us today for a ¾-day fishing charter in Kona and went home with some fresh Ahi Tuna Filets. The Tuna fishing in Kona has been very good the past month with fish to 160+ pounds. While the best fishing has been on the afternoon tide change, with lots of…