Humdinger Wins Most Tags and Total Points in Skins Marlin Derby
Kona Fishing Report
The Humdinger Sportfishing team made a strong showing in day one of the tournament tagging three fish for a total of 600 points, but Heather Masunaga fishing on the Rod Bender landed a 676.5 lb blue marlin in the closing minutes of the first day to take the lead in points and capture the SKIN for day one.
Keeping up the pace of day one, the crew of the Humdinger went on to tag two more fish on the second day of the tournament, but Jim Rainey fishing on the Maui Jim weighed the only fish on day two, a 506 pound blue marlin, that was just enough to take the SKIN for the day.  Despite not weighing a fish, the Crew of Humdinger Sportfishing lead the tournament in total points with five tags and 1,000 points at the end of day two.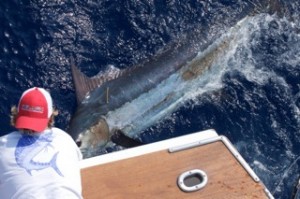 The fishing stayed red hot on the Grounds during day three, but the Humdinger struggled to connect on a big fish.  Hooking and losing a nice fish on day three just added to the crew's frustration, but with such a strong showing on the first two days, the Humdinger hung on to win the total points category and the skin for day three as well, taking home $38,000 in prize money.
Read Our Recent Fishing Reports
Kona Fishing Report August 16, 2021 – The Yellowfin Tuna Bite Continues

One of our regular clients, Doug Schultz, joined us today for a 6-hour fishing charter in Kona. Doug wanted to catch some fish to eat so we went looking for the Tunas that have been reliably showing up here in Kona the past few weeks. The best season in Kona for catching Yellowfin Tuna, otherwise…

Kona Fishing Report August 11, 2021 – Nice Ono on an Afternoon Fishing Charter

Probably one of the best things about fishing in Kona is the fact you can catch any number of species on any given day within a few minutes of leaving the slip. Because of this, even on a 4-hour afternoon fishing charter, it is possible to catch a giant blue marlin or just something delicious to throw on the grill for dinner.

Kona Fishing Report August 7, 2021 – Morning Ahi Bite

Brian O'Snow and his family joined us today for a ¾-day fishing charter in Kona and went home with some fresh Ahi Tuna Filets. The Tuna fishing in Kona has been very good the past month with fish to 160+ pounds. While the best fishing has been on the afternoon tide change, with lots of…