March 2016 Hawaii Deep Sea Report
Kona Fishing Report
The fishing in Kona has been a bit sporadic the past week or so. We had a low pressure system move in over the island and bring some rain and things got a bit out of sorts for a few days there. The bite on the Shortbilled Spearfish seems to have slowed down a bit from the great action we saw earlier in the month. In the past few days however, we are seeing a few more Ono (Wahoo) caught and we landed a nice one to day ourselves. The Ono should show up in really good numbers over the next few months with the peak of their migration being around the full moon in May give or take.
In addition to the Ono we caught today, we also landed a nice Mahi Mahi (Dorado) for our charter. We have caught several Mahi Mahi over the past few weeks and like the Ono, these fish are prized for their light flaky flesh that holds up well on the grill. Now that the low pressure system is out of here, and the trades are blowing again, expect the fishing to be a bit more consistent. There were some nice blue marlin caught over the weekend (up to 500 lbs.) and there are still a good number of striped marlin hanging around too. If you are interested in a fishing charter, be sure to visit our website and check our availability online. You can also book online to lock in our lowest rates.
Catch All the Action on Our Facebook Page!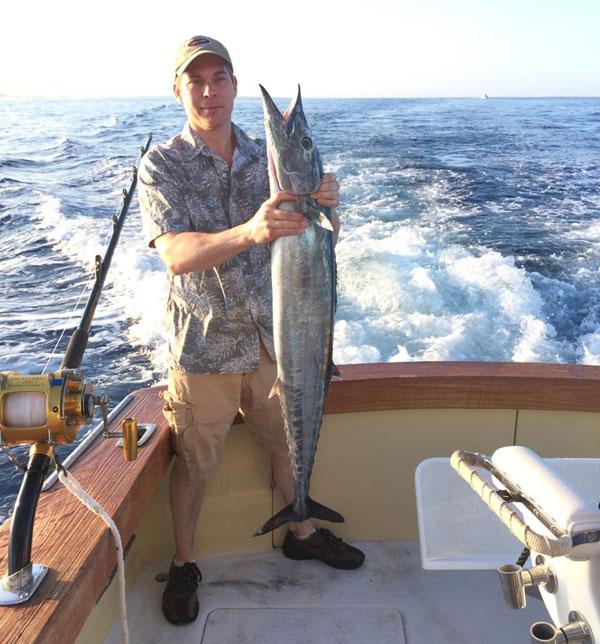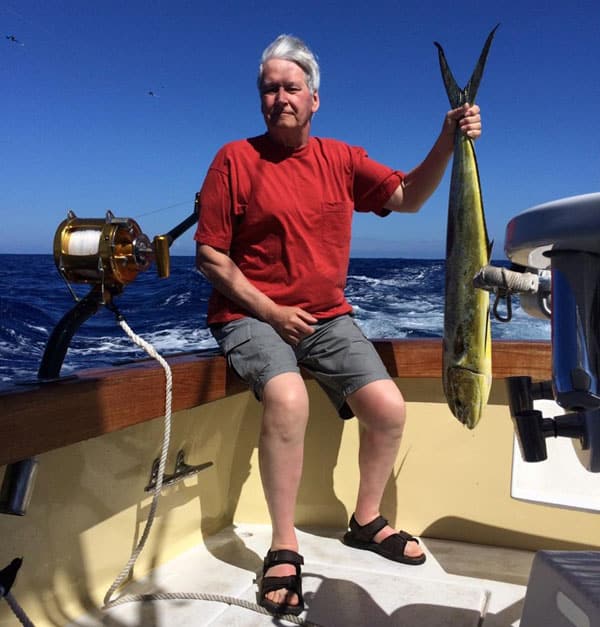 Read Our Recent Fishing Reports
Kona Fishing Report August 16, 2021 – The Yellowfin Tuna Bite Continues

One of our regular clients, Doug Schultz, joined us today for a 6-hour fishing charter in Kona. Doug wanted to catch some fish to eat so we went looking for the Tunas that have been reliably showing up here in Kona the past few weeks. The best season in Kona for catching Yellowfin Tuna, otherwise…

Kona Fishing Report August 11, 2021 – Nice Ono on an Afternoon Fishing Charter

Probably one of the best things about fishing in Kona is the fact you can catch any number of species on any given day within a few minutes of leaving the slip. Because of this, even on a 4-hour afternoon fishing charter, it is possible to catch a giant blue marlin or just something delicious to throw on the grill for dinner.

Kona Fishing Report August 7, 2021 – Morning Ahi Bite

Brian O'Snow and his family joined us today for a ¾-day fishing charter in Kona and went home with some fresh Ahi Tuna Filets. The Tuna fishing in Kona has been very good the past month with fish to 160+ pounds. While the best fishing has been on the afternoon tide change, with lots of…