Best Fishing in Kona Hawaii Report for Blue Marlin and Shotbilled Spearfish
Kona Fishing Report
Fishing Kona Report September 2016 – Hawaii – The Big Island – September has always been one of my favorite months to fish in Kona.  The town slows down and empties out, the hectic fishing tournament season is over but the fishing remains as good as it gets most any month of the year and this year was certainly no exception.
2016 in general has been one of the best years fishing in Kona Hawaii for Blue Marlin and Shotbilled spearfish in recent memory.  The summer months this year produced consistent action and solid fish for most charter boat operators here on the Big Island.  The last part of August and the first half of September saw some of the best fishing all year and we had multiple days back-to-back with 2, 3 and as many as 6 bites per charter.  During this time, we saw a mixed bag of Shortbilled Spearfish, Blue Marlin, Ono (Wahoo) and Ahi (Yellowfin Tuna).  Be sure to like and follow our Facebook page to see our recent catches and keep up to date with all the action on the Humdinger.
A few days after the full moon, as is typical, we started to see a bit of a slowdown that continued through the second half of the month.  However, during this time, some really good fish were caught and released by the Kona Sportfishing fleet including one that was called a solid 900 pounds by one boat.  In the past week, we have seen some strong trade winds move over the island and some really good schools of baitfish have moved in as well.  We haven't been catching fish every day, but we've been picking at 'em here and there and tagging a few small ones, and I remain encouraged that the consistent trade wind patterns we are seeing now and the arrival of baitfish are very encouraging signs for the next few weeks as we move toward the full moon again.
Expect to continue to see primarily blue Marlin, a few Shortbilled Spearfish and the odd Ono or Ahi here and there.  If you are planning a trip to the Island in the coming months, be sure to check out our Fishing Season Calendar and our Moon Phase Chart on our website.  In general, the building side of the moon, and up to a few days after the full moon, are my personal favorite times to fish, but it can happen any day of the week here in Kona.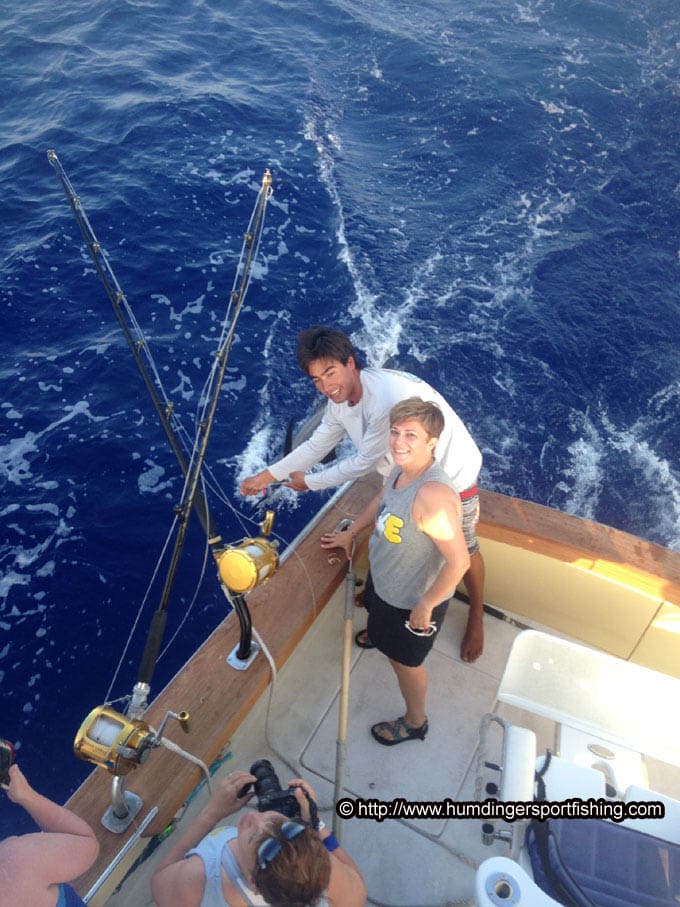 Be sure and check our online booking calendar below to check our real-time availability and book right on our website to get our lowest available rates.  We are currently offering our VERY popular $399 web special now through November 15th, so book early to secure the best rates and dates.  We look forward to seeing you here in Kona very soon.
Aloha,
Capts. Jeff and Brett Fay
Read Our Recent Fishing Reports
Kona Fishing Report August 16, 2021 – The Yellowfin Tuna Bite Continues

One of our regular clients, Doug Schultz, joined us today for a 6-hour fishing charter in Kona. Doug wanted to catch some fish to eat so we went looking for the Tunas that have been reliably showing up here in Kona the past few weeks. The best season in Kona for catching Yellowfin Tuna, otherwise…

Kona Fishing Report August 11, 2021 – Nice Ono on an Afternoon Fishing Charter

Probably one of the best things about fishing in Kona is the fact you can catch any number of species on any given day within a few minutes of leaving the slip. Because of this, even on a 4-hour afternoon fishing charter, it is possible to catch a giant blue marlin or just something delicious to throw on the grill for dinner.

Kona Fishing Report August 7, 2021 – Morning Ahi Bite

Brian O'Snow and his family joined us today for a ¾-day fishing charter in Kona and went home with some fresh Ahi Tuna Filets. The Tuna fishing in Kona has been very good the past month with fish to 160+ pounds. While the best fishing has been on the afternoon tide change, with lots of…