Report Kona Deep Sea Fishing November 4 2016
Kona Fishing Report
Kona – November 4, 2016 – The Big Island of Hawaii – The calendar says November, but the fish still think it's August.  Now, well into our second year of El Nino patterns, the fishing here is Kona has been some of the best we have seen.  2016, the year of the so called "Super El Nino" has brought consistent fishing just about all year.  After 50 years of fishing in Kona, I would go as far to say it's been in the top 5 of all time.
Last year, Kona experienced excellent fishing with a lot of big fish crossing the scales and multiple granders (more than I can count on one hand) being weighed.  This year has been a story of consistent numbers of solid fish being caught over the summer and we had a lot of days with multiple hookups and as many as five or more fish per day during the best periods.  While the size of Blue marlin we were mostly catching were in the 150-350 pound class, there were a lot of solid fish being caught in the 500-600 pound class as well.  The odd thing about 2016 is that we have now gone a full 10 months with no grander being caught, although there have been a few reports of boats releasing fish they swear would hit the 1,000 pound mark.  Kudos to those captains for releasing the big girls!!
A few weeks ago, I thought we were making the turn into a more typical Fall fishing pattern when the Mahi Mahi started to show up in really good numbers and the tuna started to move out.  No sooner had I written that fishing report than a number of boats started catching some pretty nice tunas again around the porpoise schools.  The water is still in the low to mid 80's here, so the fish really don't know any better.  It seems like we're in a pattern where some of the more winter oriented species are starting to show up in better numbers, but the summertime species haven't moved out all together.  The results have been a really good mixed bag of Blue Marlin, Ono, Mahi Mahi, Shortbilled Spearfish, Kawakawa, Kampachi, and Ta'ape on our most recent charters.
If you're planning a trip this Fall or Winter, be sure to check our availability online and book your fishing charters as soon as possible.  We have very little availability left in November and we are already booking well into our busy Winter period as far out as February right now.  Our $399 – ½ Day Charter FLASH SALE will be available sporadically until March 15th, so check the website often and book your trips early to get our lowest rates.
Hope to see you in Kona real soon!
Aloha,
Captains Jeff and Brett Fay
Deep Sea Fishing Tip Pictures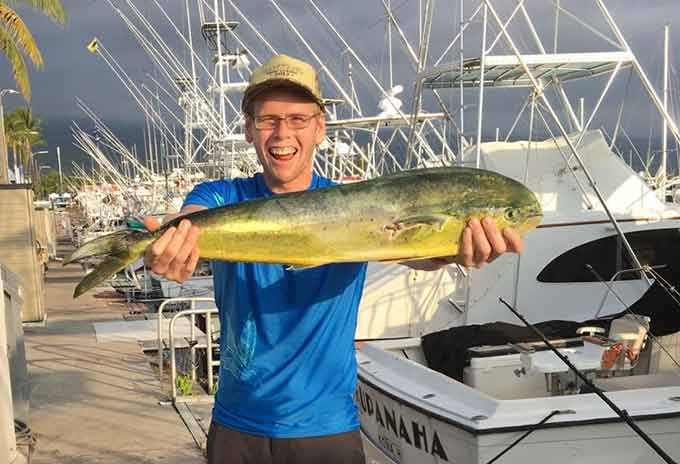 Read Our Recent Fishing Reports
Kona Fishing Report August 16, 2021 – The Yellowfin Tuna Bite Continues

One of our regular clients, Doug Schultz, joined us today for a 6-hour fishing charter in Kona. Doug wanted to catch some fish to eat so we went looking for the Tunas that have been reliably showing up here in Kona the past few weeks. The best season in Kona for catching Yellowfin Tuna, otherwise…

Kona Fishing Report August 11, 2021 – Nice Ono on an Afternoon Fishing Charter

Probably one of the best things about fishing in Kona is the fact you can catch any number of species on any given day within a few minutes of leaving the slip. Because of this, even on a 4-hour afternoon fishing charter, it is possible to catch a giant blue marlin or just something delicious to throw on the grill for dinner.

Kona Fishing Report August 7, 2021 – Morning Ahi Bite

Brian O'Snow and his family joined us today for a ¾-day fishing charter in Kona and went home with some fresh Ahi Tuna Filets. The Tuna fishing in Kona has been very good the past month with fish to 160+ pounds. While the best fishing has been on the afternoon tide change, with lots of…