September 2015 Hunting Fishing Report
Kona Fishing Report
Big Island Fishing Report Kona Hawaii – September 3, 2015 – The fishing has been hit or miss lately due to a series of tropical storms passing on either side of the Big Island of Hawaii over the past few weeks. The storms have disrupted our normal pattern of trade winds and currents, making the fishing spotty and unpredictable. Despite the less than ideal conditions, when the fishing turns on, it turns red hot. Late in August, Kona gave up two more giants. A monster 1,305 pound Blue Marlin (picture below) was caught on a charter by another boat fishing in the area, and a few days earlier, another boat caught a 1,075.8 pound Blue Marlin. I've lost track of whether that makes five or six Granders this year in Kona, but regardless, it is evidence why no matter what time of year and no matter what the conditions, Kona Hawaii ranks #1 as the best location in the world to catch giant Blue Marlin.
The last week of August, we went 2/4 on Blue Marlin and in addition to the great marling fishing this time of year; we are seeing good numbers of Tuna showing up along with the occasional Ono, Striped Marlin and Shortbilled Spearfish. Once the currents calm down and the trade winds get back to their normal pattern, expect the fishing to heat up again and get a bit more consistent.
Overall, the Sportfishing in Kona this year has been fantastic. We are experiencing an extremely strong El Nino condition in the Eastern Pacific ocean, which has consistently kept our water temperatures in the mid to high 80's, concentrating baitfish and the bigger species like Blue Marlin, Ono (Wahoo) and Tuna in the area. While you have probably read a lot lately about the large number of very large hurricanes and typhoons that have formed in the Pacific this year, generally speaking, those storms have steered around the islands and despite a bit of rain and high humidity, we were unaffected as Kona lies on the protected side of the island in the shadow of three large volcanoes. The fishing on Kona happens very close to shore and the water conditions most days are extremely calm.
Expect the water temperatures to remain warm well into October, November and December this year which should extend our prime time fishing for Blue Marlin and Tuna a few months into the holiday season this year because of the El Nino conditions.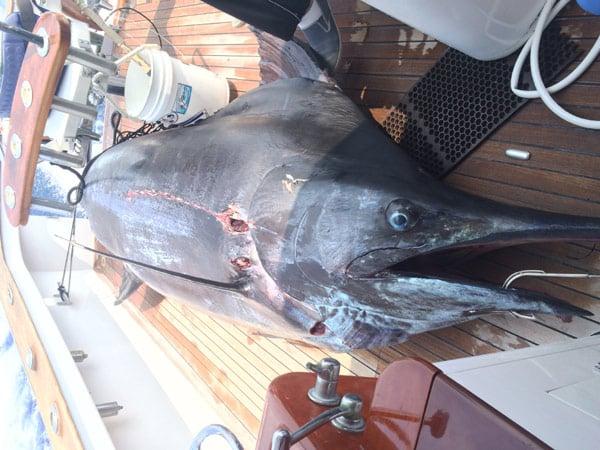 Be sure and book your Kona Fishing Charters early if you plan to join us around the popular Thanksgiving and Christmas breaks. We are already booking several days around Christmas time now and we will very busy that time of year. You always get our lowest rate on fishing charters by booking directly on our website, so check availability on the calendar below for your preferred dates and secure your fishing charter by booking your reservations online.
Read Our Recent Fishing Reports
Kona Fishing Report August 16, 2021 – The Yellowfin Tuna Bite Continues

One of our regular clients, Doug Schultz, joined us today for a 6-hour fishing charter in Kona. Doug wanted to catch some fish to eat so we went looking for the Tunas that have been reliably showing up here in Kona the past few weeks. The best season in Kona for catching Yellowfin Tuna, otherwise…

Kona Fishing Report August 11, 2021 – Nice Ono on an Afternoon Fishing Charter

Probably one of the best things about fishing in Kona is the fact you can catch any number of species on any given day within a few minutes of leaving the slip. Because of this, even on a 4-hour afternoon fishing charter, it is possible to catch a giant blue marlin or just something delicious to throw on the grill for dinner.

Kona Fishing Report August 7, 2021 – Morning Ahi Bite

Brian O'Snow and his family joined us today for a ¾-day fishing charter in Kona and went home with some fresh Ahi Tuna Filets. The Tuna fishing in Kona has been very good the past month with fish to 160+ pounds. While the best fishing has been on the afternoon tide change, with lots of…